We've spent the weekend in Little Leckmelm, a cottage on the shores of Loch Broom near Ullapool, with quite a lot of my family: uncles and cousins and aunts as well as my immediate family.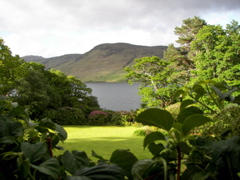 With the stormy weather closing in, we nevertheless managed to get a little bit of walking in on Sunday morning – a short walk up the Inverianvie river to some waterfalls.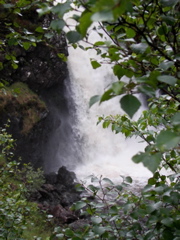 The book said it was gentle, but it turned into a scramble over rocks on a rather flooded path! On the way back the rain came down hard – but it was actually quite warm, so it wasn't so bad.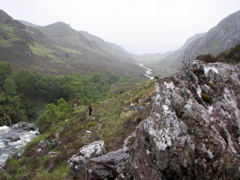 The house is next to Leckmelm Gardens – in fact we had our own private gate in! The rhododendrons were looking lovely and there were some quite impressive trees as well, including this fallen, twisted, and chopped beech tree which was nevertheless still alive and putting forth fresh green leaves.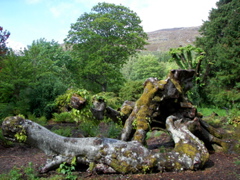 We left this morning and headed for home in front of the worst of the weather – diverting east via Balmoral helped avoid driving in the real storms. We even managed to get in a trip to Tesco before it really set in! Now we're safely ensconced in the house, reading news stories of how bad it is in the rest of Scotland. I hope the rest of my family have the sense to do the same!