I think that an abandoned blog is a very sad thing, so I'm going to try and kickstart this by talking a bit about the progress of our extension.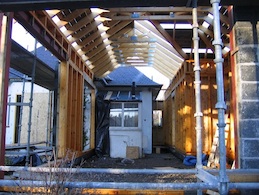 So far we (or rather Robert Mason Contracts of Cupar) have demolished the garage and conservatory, made a surgical incision in our porch (depriving us of the use of our dishwasher but crucially not the washing machine or boiler), and erected walls and started on the roof. The slate for the roof is due on Monday and the windows on the 25th. At some point between the two they'll have to demolish the porch entirely and we will have no central heating for a couple of weeks. We've had a first draft of the kitchen plans and they look very good.
We don't quite know when it will all be finished, but we have a sofa on order due in about mid-April, so it had better be done by then!