Man (15) attempts rifle competition, gains 12 points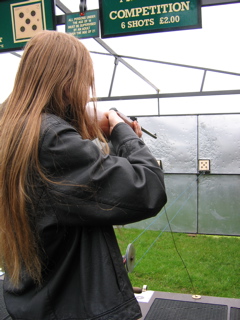 David Williams yesterday entered the National Target Sports Association competition at the Game Conservancy Scottish Fair held at Scone Palace this weekend. Mr Williams, 15, who had paid £2 to enter the competition, hit one of the five targets near the centre for eight points and the other four near the edge for one point each. He commented, 'I'm not really used to this sort of rifle, and I'm a bit out of practice.'
Afterwards, Mr Williams, the eldest nephew of Robin and Rhiannon Miller, tried his hand at archery and toured the falconry area before visiting the tent of the re-enactment society The Swords of Dalriada. Here he tried on a chain shirt, which fitted him very well, and was allowed to hold a broadsword for a short while. 'I thought broadswords were bigger than that,' he said.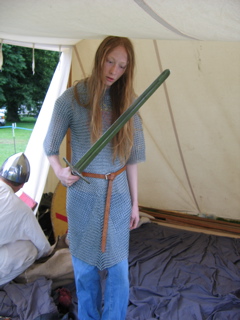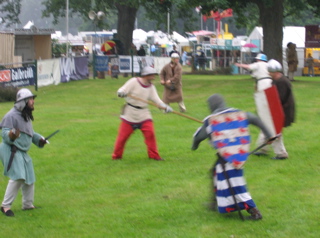 Later, he watched as the Swords of Dalriada staged a mock battle. Despite the rain the crowds were enthusiastic and cheered the six Scots and booed the six English. King Edward was captured but escaped.
Other activities he engaged in included eating Scottish fudge and petting ferrets at the tent of the Scottish Ferret Club. Mr Williams now plans to keep a ferret himself one day.