Dairy-free frozen sweet things
So with this hot weather we've been wanting lots of ice cream. With both Robin and now me as well being sensitive to dairy (it seems the baby is taking after him; I'm hoping that once it's out normal service will be resumed), this is a little tricky. I've been experimenting with some ideas that don't involve too much work.
Fruit ices
Simplest of all!
Pour fruit juice into an ice cube tray. Put in freezer. After about an hour, stick lolly sticks into the slush. After two more hours, you have mini ice lollies.
Coconut honey custard ice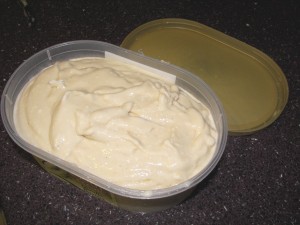 A proper 'ice cream' with a good eggy richness. Very nutritious with all that egg and coconut, a good energy boost, and SCD-friendly too.
I think this one's my favourite, but it is the most work.
4 eggs
4 egg yolks
1 vanilla pod
1 tin coconut milk (400ml)
1 tablespoon coconut oil
150g (or to taste) runny honey
25g desiccated coconut
Split the vanilla pod and scoop out the seeds.
Heat the coconut milk and coconut oil with the vanilla pod and seeds until just boiling.
Meanwhile, whisk the eggs and egg yolks with the honey in a large mixing bowl.
Add a small amount of the hot coconut milk to the egg mix and whisk in.
Whisk in the rest of the coconut milk gradually.
Return to the pan and heat slowly until it thickens, trying not to cook the eggs too fast.
Put in the fridge to cool.
When it's cold, extract the vanilla pod, turn the mix into an ice cream maker and churn until thick.
Just before you turn it off, add the desiccated coconut and let it churn in.
Pot up and freeze. It should nicely fill a 1-litre tub.
I made it first with 80g of honey and I rather liked it that way, but Robin reckoned it was not nearly sweet enough. So for the second batch I've near-doubled the honey content, which should make it sweet enough for normal tastes.
You could probably use this as a base for other flavours, for example adding cocoa powder or chocolate chips, strawberries, or other nommy things instead of the desiccated coconut.
Berry sorbet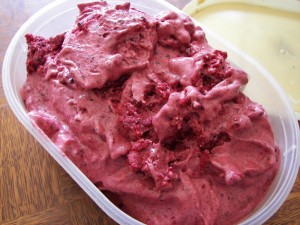 Oh look, you have four egg whites over. Here's what to do with them.
4 egg whites
400g (or so) frozen mixed berries
60g caster sugar
Blend the berries and sugar into a slurry. You'll need a jug blender if you have one – the berries leap everywhere if you try using a stick blender in a bowl. I don't have a jug blender, and ended up bashing the berries with a pestle until they were soft enough to use the blender on.
Whisk the egg whites until they do the soft peak thing.
Stir a couple of tablespoons of the egg white into the berry paste, and then gently fold in the rest.
Turn into an ice cream maker and churn until thick. This won't take long, as it should still be substantially frozen.
Pot up and freeze. Again, this should fit nicely in a 1-litre tub.
You should be able to substitute other fruit for the berries. Perhaps lemon or mango?
Banana choc ice
This is based on this recipe. All I changed was that I used a large scoop to get proper-sized ice lollies rather than mini ones, and mixed the nuts into the chocolate rather than faff about adding them separately.
It takes a couple of days, but not a lot of actual work, and it's well worth it.
3 large or 5 small bananas
100g dark chocolate
1 dessert spoon coconut oil
A large handful of almonds, walnuts, or pistachios
Peel and chop the bananas, and freeze overnight.
Next day, blend the frozen chopped bananas into a paste, and put back in the freezer. Wait at least two hours.
Scoop out rounds and lay on a lined baking tray. (I got nine scoops out of three large bananas, using a full-size ice cream scoop. If you use a melon baller or similar, as in the original recipe, you'll get lots of little ones instead.)
Insert lolly sticks and freeze overnight again.
Chop the nuts coarsely in a mini food processor. If using almonds, toast them by baking in the oven at 180º for about four minutes.
Melt the chocolate and coconut oil together, then leave to cool back to a warm room temperature. Stir in the nuts.
Take the banana balls out of the freezer and coat them in the chocolate nut mix.
Return to the freezer. You don't need to wait long before they're ready to eat!