For some time now the only thing left to do on our extension has been a new pair of curtains for the bay window in the dining room (with new French doors out to the patio where the conservatory used to be). We had quite specific ideas about what sort of fabric we wanted, so we went round pretty much every fabric shop we could find. To no avail. Hence only managing to do this several months after everything else was finished.
Eventually we gave up on the idea of being able to see the fabric in person before we bought it. It still took some hunting, but we found something on ebay. It wasn't quite what we had had in mind, but it looked utterly gorgeous: goldy peacock feathers on a blue-green background. And it was the first fabric we'd found that we could remotely contemplate hanging round our window.
So then we started looking for someone to make the curtains up for us. We found a nice-looking website for someone just up the road from us, but they never answered their emails. Eventually we gave up and found someone else, Olivia McNichol, listed on Google and Yell – no website of her own, but a good review, and not far away. I phoned her and she was happy to take the job.
Now this is the good bit. We ordered the fabric, which was being sold from Hong Kong and would take 5–14 days to arrive. It came in three. We took it round to Olivia that evening. Next day we got a call from her to say that they were ready!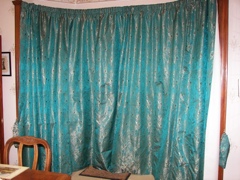 I'm really impressed with the fast turnaround. And they're lovely curtains and she's done a really good job on them.
I think with the curtains hung, although we still haven't received our Certificate of Completion, we can officially call this extension done.
Now for the big Christmas celebratory feast!